For Hubungan Etnik, we need to submit an assignment written in Bahasa Melayu. The task evolved around the Upin Ipin animation and how it can play a role in achieving unity. We need to provide examples of how these characters made it possible and the one thing that crossed my mind was, "Do I need to watch all the episodes?"
Judging from the conversation in forums, it seems like we could write a fairly good essay based on the superficial knowledge we have about the animation. Surely, the cliches of 'amalan-amalan murni' like helping the elderly, teamwork etc would be what the characters will be doing. However, to produce an outstanding essay, I think it would take an extra mile to show the examiners that we know what we are talking about. I decided to go an extra mile.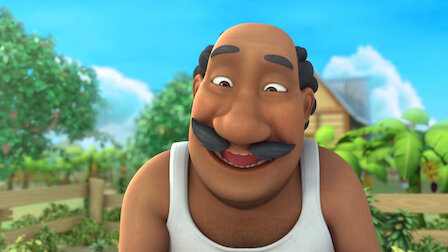 I chose Uncle Muthu as my ikon of unity for my essay. I felt that Jarjit would be a very popular choice. Who could not resist mentioning him and his pantun, right? Uncle Muthu seemed like a favourable character and worth exploring more as I started the draft of my essay. I knew him as an Indian man who sells local delicacies at his stall in the village but surely there is more to him than that.
His biodata on the web did not elaborate much except for the fact that he has a son called Raju. I asked my son if he knew anything extra about Uncle Muthu but he only knows that he sells ABC. And so began my marathon of Upin Ipin on Youtube. It was an incredible research portal as there were tonnes of side information about Muthu. His most prominent episode was Cahaya Deepavali.
THE ASSIGNMENT
The question asked about the impact of Uncle Muthu towards kesepaduan sosial. I outlined my answers as below;
menyediakan ruang sosial untuk penduduk setempat berintegrasi
berasimilasi dengan budaya dan masyarakat setempat
berbudi bahasa dan prihatin dalam komunikasi harian
mendidik ahli komuniti secara tak langsung mengenai keunikan kebudayaan etnik beliau
Of course, each point was elaborated by extracting examples from relevant episodes. I am so grateful for Youtube. It was easier to watch it there than having to go on Netflix.